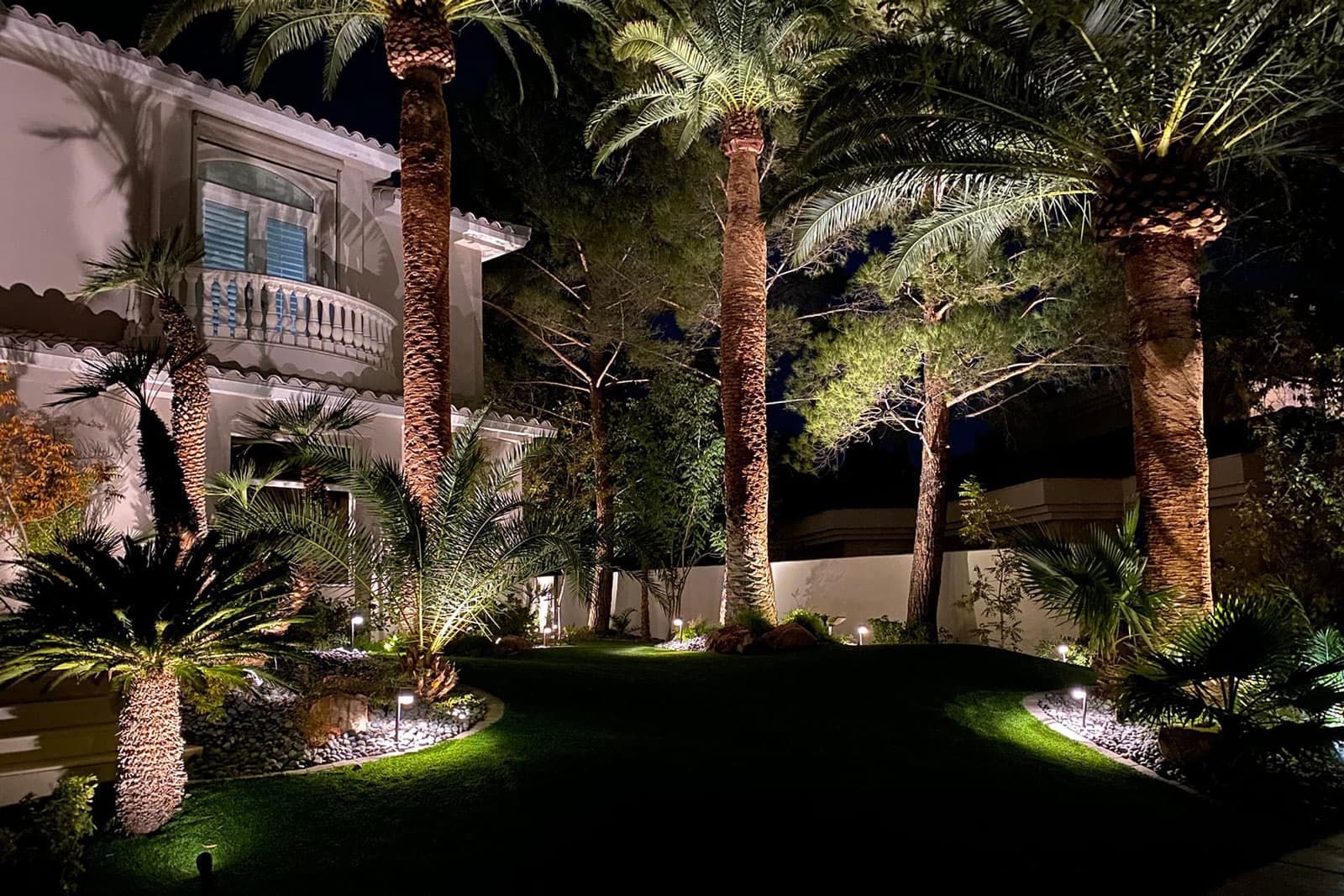 Artificial Grass/Turf
Water-Smart Landscape Design
We know Las Vegas residential landscaping. Enjoy a stunning yard without excess watering or maintenance with artificial grass, natural stones and native plants.
Commercial Landscaping
Your Las Vegas Commercial Landscaping Experts
Keep your exterior refreshing and pristine with our water smart landscape designs, installation, and maintenance.
Portfolio
Transforming Landscapes with Expertise and Vision
We take pride in our work, from 3D planning to meticulous project cleanup. Explore our portfolio and see for yourself why Nevada trusts our professional tree and landscaping services.
Hardscapes
Professionally Installed Pavers & Hardscapes
Enhance your outdoor living space with stonework, retaining walls, and other environmentally-friendly hardscape elements.
Find LAsting Vitality With Green America
Green America takes pride in its comprehensive range of landscaping services to enhance your  commercial or residential property in Las Vegas, Henderson, Boulder City, Enterprise, Lake Las Vegas, and Summerlin. With our expertise in irrigation, commercial landscaping, and tree services, we bring life and vitality to your outdoor oasis. Our skilled professionals will help you craft harmonious landscape designs, precise tree trimming, and meticulous hardscape installations.
Your Premier Las Vegas Landscaping Experts
Creative & Professional Start To Finish
Visualize With 3D Renderings
Discover the transformation possible with our 3D rendering capabilities. This powerful tool enables you to make informed decisions, fine-tune design choices, and ensure that your expectations are met. Our visualizations allow you to explore every detail and angle before a single stone is laid.
Nevada's leaders in Commercial Design
We provide Las Vegas and the surrounding areas with unparalleled landscaping and maintenance solutions for both commercial and residential spaces. Our team of fully licensed experts specializes in commercial landscaping, catering to a diverse range of clients, including city parks, shopping malls, HOAs, apartment buildings, and large corporate environments. We understand the distinct requirements of these settings and bring our wealth of experience to create captivating outdoor spaces that leave a lasting impression.
Smart irrigation services can help create the garden or landscape of your dreams, even in Las Vegas. From paver designs to landscape lighting, find ideas for your next outdoor project among some of our favorite completed landscapes.
Very professional, very fast, great clean up and competitive prices! They work fast and efficient and we are mindful of the other plants and sprinkler lines I had on the property. They continually asked me if what they were doing was good as they worked on. When it was all finished they did a very good job cleaning up, my wife double checked and she was happy so that means they did a good job! I will recommend this company to anyone!
Very pleased with Green America Tree & Landscaping LLC, from service on the ground to customer service on the phone!
Green America Tree & Landscaping LLC is a very good landscaping company. They do tree removal also. We liked them because all the employees are hard working, honest and reliable. They always come on time, and the prices are good too!
From the initial planning to completion. Always on time, and left the site spotless on completion. We definitely going to use your landscaping services again in the future!
Thank you to Saul and his crew! Great job and prompt timing from the estimate to scheduling with Gabi to the day of the service! Price was extremely fair and service outweighed everything else. I will continue to use this service for regular maintenance of my yard! Just call and you won't be disappointed!
Saul came out and provided me with a quote to do a first time landscape and monthly maintenance afterwards. The first time involved the removal of 2 large cactus' and trimming of a large tree. Gabi confirmed the scheduled appointment prior to them coming. Saul and his crew showed up on time and made my yard look great! Saul was not only fair and did a great job. Knowing that my landscaping is in great hands I will be using Saul and his company on a regular basis. Thank you for treating my yard like it was your own.
We had this company trim trees and plant some plants on Sep 21st. Excellent Job!! Will hire again.
We had a mess front and backyard. David and Antony came and did a Excellent job on May 4 th.! We got a great price, service and attitude, what else? So happy that we called you guys! Also Gabby front desk were excellent to call us etc. Thank you so much! Jeff and Oz.
We grossly neglected a large mesquite tree in the front of our house, and started getting hate mail from the HOA about it. Green America came in with the best quote. They cleaned up and trimmed our tree while we were at work and, when we came home, we were shocked at how incredible it looked. My husband asked them if we should trim quarterly and they told him it wasn't necessary and we could do twice annually. What a relief to find a good company who shows up when they promise, does great work, offers reasonable pricing, and doesn't sell you on services you don't need. Thanks guys, we'll see you again in 6 months and will recommend you highly in the meantime!
Saul was recommended by two friends of mine and I am glad they did. Have been looking for a while for a fair and reliable service. They will be my new landscaping company. Great clean up- moving plants and planting trees. Gabby is wonderful in the office and Saul is very easy to work with. 2 Thumbs up!!
I recently had to have a very large tree removed from the front of my house. Saul and his company were excellent. The tree was removed along with trunk and roots. The yard was left clean and neat. And the prices are very fair. I would not hesitate to use this company again or to recommend it to anyone.