Add beauty and distinction to your property with the design and installation of decorative pavers in Las Vegas & Henderson, Nevada. At Green America Tree & Landscaping, we use stone, concrete, brick, or travertine to create the design that suits your tastes and property the best. Patio pavers are not only beautiful, but often more durable than other hardscape options. They can withstand harsh use and weather for years, making them the ideal material for patios, walkways, driveways, garden paths, and sidewalk projects.
Beautiful & Distinct Pavers For Your Home
Any paver design, pattern, or style you have seen – we can do it. We are experts at creating beautiful hardscapes to enhance your outdoor spaces. We spend the time it takes to ensure the installation is level and fits smoothly with quality materials and exceptional workmanship.
Our Las Vegas crew is very seasoned and experienced at installing pavers. Even if you have no idea what will look good, our consultants will assist you in selecting a design and making material suggestions.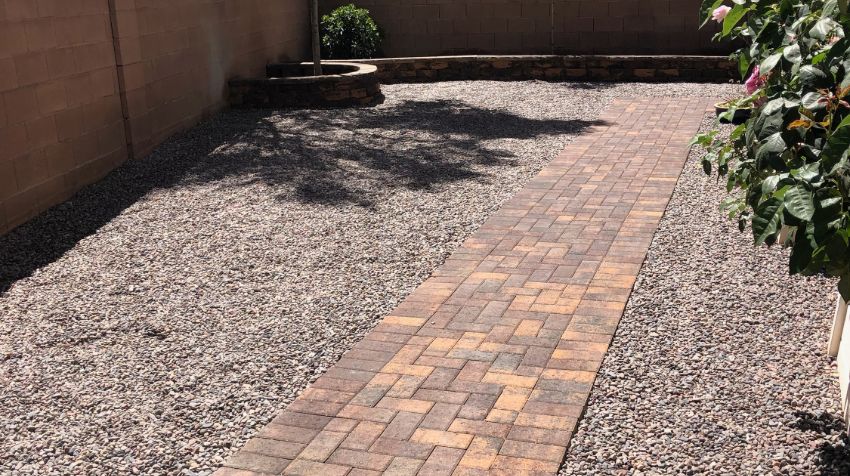 Popular Patio Paver Uses & Locations
There are a variety of attractive and functional residential and commercial paver uses in your landscape design. We can install pavers to renovate your backyard or expand your restaurant with alfresco dining. Why not add walkways and courtyards or a new seating area?
Porches & Patios
Courtyards
Driveways
Entryways
Fire Pits
Outdoor Kitchens
Planters
Pool Decks
Retaining Walls
Steps & Stairs
Walkways & Sidewalk
Large Variety Of Quality Materials & Types
Decorative landscaping pavers come in a variety of colors and shapes. With nearly infinite laying patterns, there's a design to complement any patio, driveway, pool deck, or sidewalk in Las Vegas. We are dedicated to making your outdoor living spaces unique and stand out from the rest.
Stone
Concrete
Bluestone
Brick
Cobblestone
Flagstone
Travertine
Porcelain
Plastic
Rubber
What Are The Benefits Of Installing Pavers?
Hardscaping adds natural beauty to the curb appeal of your home or business. These accents retain their color and luster for a long time. Of course, looks aren't everything, they are also a wise investment and increase the value of your home or business. Here are some practical benefits of installing pavers for your driveway, sidewalk, pool, or patio landscaping.
Create a slip-resistant surface, decreasing accidents around wet areas like pool decks.
Installation is quick and easy.
They're low maintenance, only requiring regular sealing, sweeping, and occasional power washing.
Seams make them flexible and resistant to cracks.
Repairs are easy (compared to concrete slabs).
Made from natural, recyclable materials.
Paver Installation Step 1 – Consultation & Design
The process of installing pavers for your patio, pool deck, driveway, or sidewalk in Las Vegas begins with a consultation with one of our design experts. We present our customers with several designs to choose from and samples of different types of materials available. Once the customer has chosen the style, color, and material they wish to have, we can begin the installation process.
Step 2 – Excavation & Ground Prep
First up is the excavation process, which includes prepping the ground soil to a proper depth. Depending on the type of landscaping project, we install a layer of compacted aggregate and then sand.  Most pavers installed on a compacted granular base should be four to six inches deep. The base should be leveled and compacted firmly and an edge restraint will be put in place. All of this helps keep the pavers from moving or shifting.
Step 3 – Bedding Sand & Paver Placement
Once you have the base installed, next is the bedding sand. Bedding sand should be at least one inch deep and screeded for a smooth surface. Once the bedding sand is in place, your driveway, sidewalk, pool deck, or patio is ready for installation.  Pavers are placed on a flat sand bed, not at a tilt, and in a row or in a pattern while keeping the space between very tight.
Step 3 – Design Lock & Seal
Once the design is completed, sand is then swept into the joints between the pavers and then compacted with a vibrating plate compactor. The compacting of sand helps lock them in place and keeps debris and weeds out of the joints.  The final step is to seal everything. The sealant helps enhance the appearance of the pavers and protects them from staining.
Watch Our Team In Action
Get Patio Pavers In Las Vegas
Are you searching for an expert landscaper to create and install a new hardscape design with pavers for your Las Vegas Nevada home or business? Contact Green America Tree & Landscaping to get a free estimate on your project today.