Green America Tree & Landscaping in Las Vegas, NV. will professionally design a beautiful outdoor space for your home or business by taking your vision and turning it into a stunning reality. Whether you want to sell your home and want to increase your property's curb appeal, or if you simply want help designing a relaxing backyard oasis, our professional landscape design service can help you achieve the beautiful yard you desire.
Landscape Design Pros
Designing an outdoor space can be overwhelming. Let us take the stress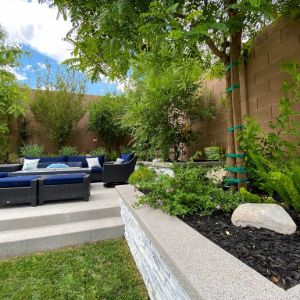 out of the process by providing you with our professional experience and expertise. We will talk with you about what you want from your space and discuss any project ideas you have, as well as any concerns and questions. Once we agree on a landscaping renovation plan we will carefully select plants, trees, and other elements such as sculptures, water features, trellises, and planters. Our team will demo anything that needs to be removed, and then install everything, quickly and professionally making sure to clean up as they go.
Popular Landscaping Design Features
An attractive desert yard and landscape will incorporate a variety of features. As part of our landscaping design service, we will meet with you to understand your vision. Some of the services we can offer to bring your dream yard to fruition include:
Boulders
Cacti
Edgings
Fire Pits
Flagstone
Flowers
Fountains
Gravel
Ground Covers
Hedges
Native Plant Installation
Ponds
Riverscape
Shrubs
Sod Installation
Sprinklers
Stepping Stones
Succulents
Walkways
Water Efficient Plants
Waterfalls
HOA Friendly Estimates
When it comes to landscaping for an HOA, it's essential to take a collaborative approach. This means working closely with the HOA board to determine the specific needs and goals for the landscaping project. We provide HOA-friendly estimates with all the information required to make the approval process as easy as possible.
See Your Remodel Come To Life
3D landscape software allows users to create realistic designs for their outdoor spaces. Using this software, you can easily visualize your landscaping ideas and see how they will look in real life. This can be particularly helpful when planning a complex or large-scale landscaping project, as it allows you to see precisely how the various elements will fit together and interact. With the right 3D landscape software, we bring your design to life and see exactly what your finished project will look like before any work begins.
Don't Make Costly Design Mistakes
We understand that DIY landscape renovations are all the rage. You certainly can do some of this work on your own. However, if certain features are not properly installed, it may end up costing even more money down the road for repair or replacement. This is especially true when it comes to installing pavers, retaining walls, and other hardscape features. Do you have the skills and tools to get the job done right and make sure you have proper drainage and a safe installation? Instead of breaking your back, let us help you plan a beautiful design for your home or business and make the dream a reality.
Water Smart Is Vegas Smart
Water is precious, and making sure you get the outdoor space you want while keeping your yard water-smart is important to us. One of the easiest ways to achieve this is by making sure your irrigation system and water features are properly installed and as efficient as possible. We are a Certified Water Smart Contractor and can assist you in obtaining rebates from the Southern Nevada Water Authority when you convert your water-hungry lawn design into a water-saving landscape oasis.
Landscape Design Service In Las Vegas
Green America Tree & Landscaping serves Las Vegas, North Las Vegas, Henderson, and surrounding areas. We offer exceptional services for both homes and large commercial spaces. Don't leave your landscaping to amateurs. We have licensed contractors with the expertise to give you the professionally designed yard you have always wanted, so call today for your initial appointment.