At Green America Tree & Landscaping, we offer top-notch commercial landscape design services throughout the Las Vegas Valley. Curb appeal is essential to any business, from golf courses and apartment complexes to business parks, malls, and shopping centers. Our team of licensed landscapers will work with you to create an attractive, water-smart outdoor atmosphere to impress your clientele and keep them coming back all year-round.
Professional Landscape Design
A great landscaper does a lot more than just tree trimming, planting, and occasional weed removal. Our Henderson-based landscaping company works closely with you to plan and design each landscaping project from start to finish.
In addition to plants and trees just right for your space, we can install and maintain beautiful hardscapes, water features, rock installation, and landscape lighting.
Choose From 1-Time, Weekly, Bi-Weekly, Or Monthly Maintenance
Trimming, Skinning, Pruning, Planting & Tree Removal Services
Sprinkler System Design & Installation
Irrigation Leak Repairs
Reliable – We Get There On-Time
We Have Worker's Comp
We Are Licensed, Bonded & Insured
Benefits For Your Business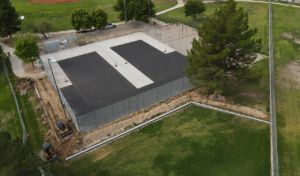 When customers or residents pull up to or walk around your commercial property, what do they see? Great, professionally designed landscaping does more than just look good. It works for you. Save water with desert landscapes or shade customers and residents with Vegas-friendly trees. Create a colorful oasis for cafe customers, add accent plants for strip mall shoppers, or plant meditative walking gardens for your church or hospital. There are so many ways the right outdoor look can help you.
Better Curb Appeal Attracts More Customers
Save Money Longterm With Water-Smart Technology
More Privacy, Safety & Security With Plant Placement & Lighting
Improve Employee Satisfaction & Productivity
Increase Your Market Value
Our Installation & Maintenance Services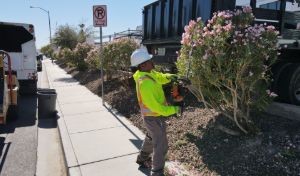 After professionally designing your landscape, we can perform the demolition of your current landscape and installation of your new design. Our ongoing maintenance services will keep things looking beautiful and well-manicured year-round.
Installation Services
Tree, Shrub & Flower Planting
Retaining Wall Installation
Lighting
Repair Services
Plant Replacement
Hardscape Repair
Makeover Services
Post-Design Maintenance Services
Pruning & Hedging
Plant Health Care
Mulching
Leaf & Debris Removal
Weeding
Irrigation Adjustments
Schedule Your Design Consultation
Our talented landscaping design specialists are eager to meet with you to discuss your Las Vegas or Henderson commercial landscaping job. Give us a call now to schedule your consultation and find out how we can help you transform your business's outdoor environment.