Green America Tree & Landscaping is a licensed and bonded landscaping company for residential properties in Las Vegas. We can assist you in planning and implementing the front and back yard landscape you are looking to create for your home. We can take your existing features and improve them, or we can design and create new outdoor spaces to improve your curb appeal.
Landscaping
Landscape Installation
Landscape Renovation & Remodeling
Sod Installation
Trees, Shrubs & Plants
Xeriscapes & Hardscapes
Rockwork & Boulders
Dry River Beds
Stepping Stones
Retaining Walls
Irrigation
Drip Irrigation Systems
Sprinkler Systems
Timer Programming & Replacement
Backflow
Leak Detection & Repair
Water Main Line Repair
Valve Repair & Replacement
Low-Pressure Problems
Broken Water Lines
Emergency Irrigation Repair
Tree Service
Stump Grinding
Sod / Root Cover
Palm Tree Skinning
Tree Planting
Pruning
Branch Removal
Emergency Tree Services
Enhance Your Curb Appeal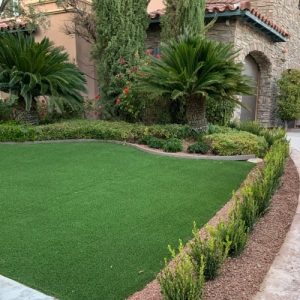 Our residential landscaping services in Las Vegas help you update your home's landscape and create an outdoor space that not only enhances curb appeal but also provides a space for relaxing and entertaining.  Whether you want a front yard redesign or a reimagined backyard for entertaining, there are so many options to consider.
We help new homeowners make their outdoor spaces feel like home. Real estate developers, sellers, and flippers benefit from a fresh landscape to get the most out of each sale. Established homeowners can benefit from increasing the use of their front or back yards with the perfect features for low-maintenance landscapes, shade trees, and new paver patios. Raised gardens with lighting, fake grass, and the right plants in place can totally renovate your love for the outdoors and increase your family's enjoyment.
Backyard Landscaping
Will there be a fire feature for fire pit nights?
If you own a pool, do you want to integrate it into your landscaping?
Are you adding or renovating a backyard patio area for entertaining?
Would you like trees planted for shade?
What styles of plants do you love?
Have you considered a raised garden or retaining walls?
Front Yard Landscaping
Which type of walkway you would like and where it will be placed?
Will you need shaded areas from trees or shrubbery?
Do you prefer lush green grass or artificial turf?
Do you prefer low-maintenance trees and shrubs?
How much watering will be needed?
Do you need new irrigation installed?
Do you want flowering plants and trees, or cacti and succulents?
Conserve Water With Desert Landscapes
We are a Certified Water Smart Contractor (Contract #0083856).  We can help you get rebates from the Southern Nevada Water Authority for transforming your water-consuming yard into a drought-tolerant desert oasis.
By making the switch, you will save money on water usage and have a beautiful, low-maintenance landscaped yard for entertaining.
Find out more about the program that pays you to reduce your water consumption and call us today for a consultation about what landscaping options fit inside your budget and the requirements of the program.
Schedule A Consultation
When approaching a landscaping project, or simply looking for a Las Vegas based landscaper, its important to choose a trusted and reliable landscaping company to perform the work to your specifications. If you are looking for a residential or commercial landscaping company in Las Vegas or surrounding areas, contact Green America Tree & Landscaping today for a consultation.
Service Area
Our service area includes the entire Las Vegas metro area: Henderson, Summerlin, and North Las Vegas. We are regularly in and out of HOA's in Henderson, Summerlin, Green Valley, Anthem, Seven Hills, Southern Highlands, Whitney Ranch, Enterprise, Spring Valley, The Lakes, Lake Las Vegas, Centennial, Lone Mountain, MacDonald Ranch, Downtown, North Las Vegas… and everywhere in between.