Early spring and fall are the prime seasons to call Green America Tree & Landscaping for biannual yard and grounds cleanup. Get a fresh look for your commercial or residential property in the Las Vegas Valley. We provide a complete array of landscape services throughout the year.
Clean-Up Services For A Tidy Yard
Our HOA landscapers will make short work of laborious fall groundskeeping. Residential landscape clean-up services are perfect for homeowners who prefer to leave sweaty yard work to our experts. We'll take care of the tough work while you relax and enjoy an immaculate yard.
Hardscape Cleaning
Mulching & Composting
Weed Removal
Yard Debris & Waste Removal
Turf Aeration
Removal Of Annuals & Perennial Die-Back
Spot Treatment Of Weeds
Pre-Emergent Application
Leaf Removal
Need Help Preparing Your Yard For Winter?
Autumn doesn't just promise relief from the hot desert sun; it is a reminder that freezing temperatures are on their way. Fall cleanup service may involve removing annuals and pruning back perennial plants. We'll also clean up fallen leaves and other dead plant matter.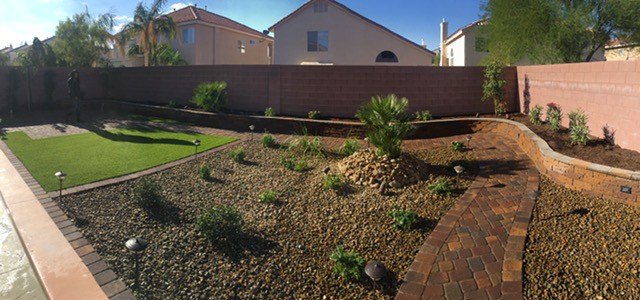 We Will Spring Clean Your Outdoor Living Space
Not all plants can survive the harsh desert winter. Trees may suffer wind and weather damage and will need to have dead and damaged branches pruned. Spring yard cleanup also means preparing for new planting and nipping weeds in the bud.
Let Us Keep Your Property Looking Great
Spring and fall cleanup can be challenging and dirty work, especially in the Southern Nevada desert, and the change of seasons in Las Vegas is wildly unpredictable. Hot weather often lasts until late October to early November and summer temperatures can arrive as early as March. Using a professional landscaping service takes the burden off your shoulders while you enjoy a beautiful, healthy yard without breaking a sweat.
Call Green America Tree & Landscaping Today
Do you require biannual yard cleaning services, or are you looking to have any other type of landscaping work done in Las Vegas, Henderson, or North Las Vegas? Our menu of services ranges from professional landscaping design to tree trimming, and irrigation services. We are committed to serving all of our customers, big and small, with the same excellent customer care level. Call us for more information and to schedule an appointment today.